Welcome to all our new members this month. Feel free to attend the monthly meetings as its a good way to meet, discuss symptoms and basically get a break from the norm.
Any crafty people out there who would be willing to show off their hobbies and maybe show the group how its done, please get in touch as we like to add these to our agenda. This month (7th November) Paul will bring his Iris Folding to the group, so if you like the sound of that please come and you may even leave with your own hand made Christmas card.
The following is a summary of relevant article/research links provided in October by Facebook members.  Please click on the article name to open and read it.
Articles / Blogs
Novel Insights into Overtraining Syndrome
It's time for doctors to apologise
Chronic inflammation removes motivation
Norwegian 2-Day ME/CFS Exercise Study
Chronic Fatigue and Gulf War Syndrome
Members posts / local support discussions
Pain relieve

Chair Yoga
The secret life of Fascia
ME Services not fit for purpose
Magnesium for Depression
Anesthesia recommendations for CFS/ME
More pain on humid days
Stroll in the Park
Memes / Pictures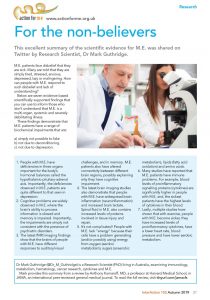 Myself and the committee would like to thank Kim Jakobsen for all the hard work and effort she has put into setting up and running of the blog. Kim has decided to a take step back for a well earned rest and now I will be doing my best to keep the blog at Kim's high standards. So Kim Thank you from us all ! xxx
Take care and gentle hugs to you all John B (Web Support), E-mail: John@dgmefm.org.uk😊.