---
Meetings are on the first Thursday of each month from 1pm – 3pm at Midsteeple, Dumfries.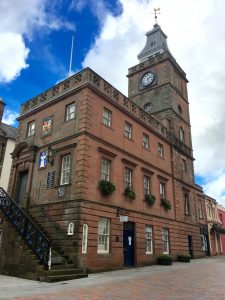 Meetings are free to attend, refreshments are available, and we can arrange for someone to meet you to go into the building. You can stay for as much or as little as you'd like.
Meetings can be a simple catch up with other members, swapping stories, or can include guest speakers – see the calendar of events for details.
Likewise, see the calendar for any 'pop-up' meetings at other locations.
Sep
6
Thu
Monthly get-together

@ Midsteeple, Dumfries
Sep 6 @ 1:00 pm – 3:00 pm
As with all the Midsteeple get-togethers refreshments will be available. There's no charge to attend. Feel free to bring along a snack. It is fully accessible with a lift to the first floor meeting room (press and hold the button to call it and then again until the door unlocks on the first floor).  Entry is through the blue Box Office door – see our website home page for a video guide. Stay for as much or as little as you'd like. Use the Facebook page to request or offer transport.