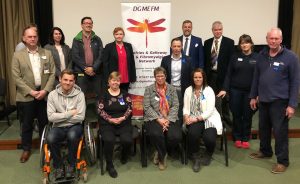 Today's Unrest in Dumfries and Galloway event.  We'd invited the NHS, MSPs and other third sector organisations to a showing of an excerpt from Unrest to be followed by discussions.
Thank you so much to Paul, Nancy, Lesley, Sarah and Connor who were thrown in at the deep end when Jen Brea wasn't well enough to Skype with us.  They talked about their illness and how it affects them, which was much better for the understanding of those in the auditorium.  They were moved. You spoke powerfully and you spoke well.
The discussion then moved on to our current situation in D&G – mainly in the NHS.  Some good suggestions were made and perhaps a kernel of a plan is beginning to form to try to improve matters and give us access to a bit more understanding support.  Very early days, but there's a potential there and now a momentum we'll need to work hard to sustain.
The MSPs were brilliant asking the right questions and coming up with good suggestions.  They will keep some pressure on, were sure.  The NHS representatives there, Dr Purdie, Dr Ross Warwick, Dr John Higgon and Dr Andrew Carnon also were taking onboard what we were saying (I hope) and there were some useful discussions.  I'm not sure most of them had any idea of the scale of the problem and the hardships we face daily.